Now it is the Summer and the sun is gracing us with it's lovely heat, many of us will be planning our weekends around the weather to get as much out of it as we can.
A BBQ or a picnic in the park might be the first activity on your agenda with your family and friends. Did you know that exposure to the sun gives us more Vitamin D, which means many of us will experience better moods in the hotter months of the year?
If you are one of these people, you might have a conservatory or could be thinking about getting one for your home so you can let light into your home and make it a wonderful place to spend time in.
However, there can be a few issues when it comes to conservatories because of how much light will be let in. For example, in the hotter months, it can act almost like a green house, making the heat unbearable for people, especially young children. Also in the Winter, simple conservatories can look plain and uninviting, which wastes a lot of money if it's not a place in your house that you spend time in whatsoever.
So what is the solution? Luckily these issues can be resolved with blinds.
Choosing the right blinds isn't just about the style you want but it's also about what you need from them. You will need to take into consideration the materials you want to use and the width so they can fit perfectly and let in the right about of sun. Below are the different types of blinds we provide and some questions you will need to ask to determine which one would be the best choice.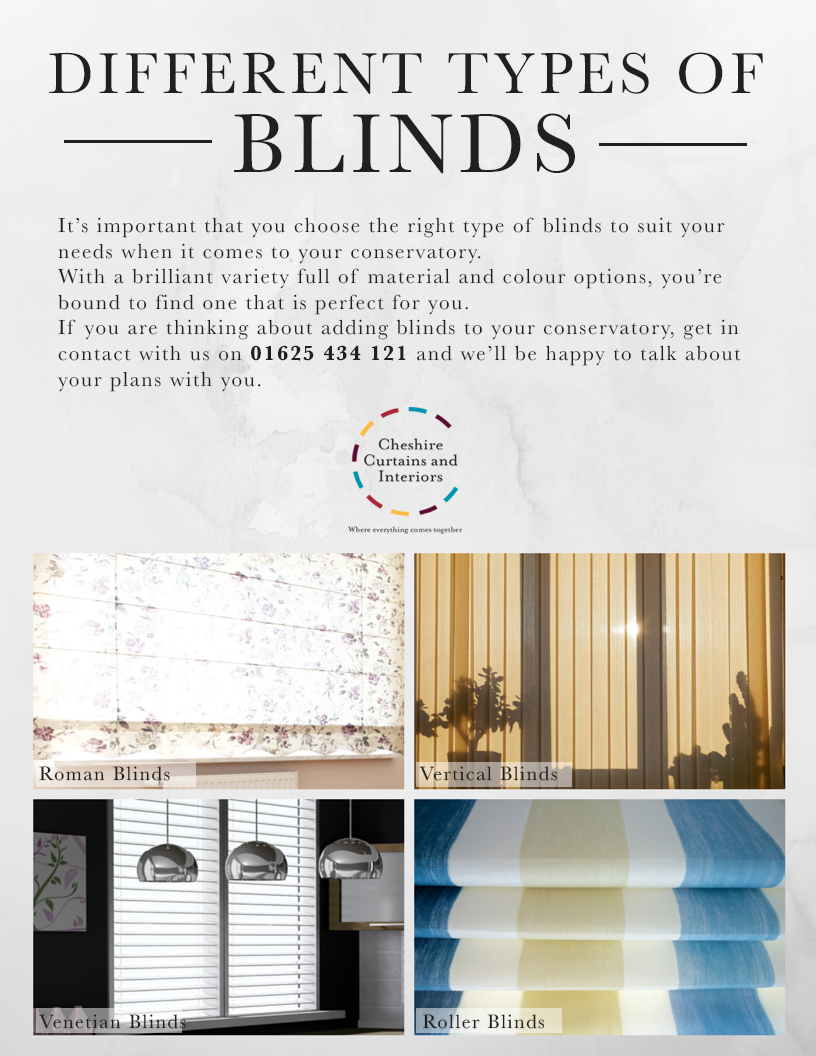 1. Do you want your blinds to focus more on the style than the functionality?
If you want to create a very sophisticated atmosphere for your conservatory and it's a place where you want to chill out, listen to music and drink a glass of wine, Venetian or Roman blinds will be the best choice for you.
These type of blinds are elegant and easy to use meaning that you can control the amount of light let in.
Venetian blinds are an excellent choice because they are sophisticated yet have excellent functionality plus, they are suited to pretty much every room and won't look out of place in a conservatory. The wooden blinds are horizontal, meaning you can adjust the amount of light you are letting in, which is great if you like to let in the summer sun but also want to relax in a low lit room. Also, the wood can bring warmth to a room which is ideal if you want it to be a cosy place to spend time in during the winter months.
Roman blinds are a very popular choice, meaning you can choose from a variety of colours and patterns to suit your taste. You can opt for something very bold and fashionable or you can go for the more classic look. These blinds are placed on a folded panels so it's easy for you to raise and lower the blinds to your preferred length. These blinds are often made of fabric, so you can even choose to have a filter placed behind them to ensure that your conservatory can block out any light whatsoever.
2. Do you want blinds which are going to be safe around children?
Having children in the home means you have to keep a close eye on their safety at all times to eliminate any health risks. For example, with certain blinds, they can lower very quickly when released, meaning if a child plays with it, they could hurt themselves by accident.
If you have children who will be spending time in your conservatory and want to focus on a type that is appropriate, we think Roller blinds are the best option for you. Even if they are playing in the room, their hands will be difficult to trap in the material plus, it's not a hard material, so if they bump into it, they are less likely going to be injured. Also, the way you control the length of the blind is well hidden, meaning children will be less likely to play around with it, reducing the risk of damage.
3. Do you care more about the room's temperature than the style?
Many of us opt for blinds because they are brilliant at controlling heat, which can save a lot of money int he colder months. If this is what you are going for, Roller blinds are a great way to keep in heat, especially if they are built with a filter behind them. This will save you turning your heating on every time you get chilly, plus they also allow privacy due to the fabrics available. Even if you have a lovely home, other houses may overlook your garden, which can make you self conscious about walking around in your conservatory. As a solution, Roller blinds can block out as much sun as you want, meaning you can relax in your home without a care in the world.
4. Do you want blinds that will easily accommodate patio doors or doors to your garden?
When fitting blinds that are appropriate and functional for your conservatory, you can't forget about the doors that will lead to your garden. Even if you had blinds that are able to block out any light, this will alter their performance if your doors aren't fitted with blinds.
The best type of blinds for doors are Vertical blinds because they can suit sliding doors and large windows. With these blinds, you can stack the slats to one end of the door, making the glass completely visible, great for if you want to get in and out of your garden.
They are also brilliant because unlike horizontal blinds, they don't gather dust and dirt as easily, which means you don't have to clean them as often.
Surprisingly, these types of blinds do come in a great range of colours and materials so you can easily find one that is right for your conservatory.
Which one do you think is best for your conservatory? If you have any in mind, visit here and get in touch!