When many people think about Neon colours, they may suddenly feel as if they have been transported back to the 1980s or a time at school where they would use their endless collection of highlighters.
These bright, bold colours aren't easy on the eyes, especially when it's used in excess. Whatever decade you were born in, you're bound to have your opinions on Neon colours and whether you favour them or not.
In the past couple of years, we have seen Neon become massively popular in fashion accessories and this has also been introduced to interior design. How on earth can we include bright colours in our homes without making it look like we're hosting a rave?
Choosing a featured wall that is a neon colour should be balanced with neutral colours to make it look more modern and trendy, instead of dated. Of course, this is a bold move and it's perfect for people who love that edgy style. If you are wondering about which neon colour you should use, we have a great selection of wallpapers that could completely transform a room.
Wallpapers are a brilliant way to update a room because it's quick, easy and gives the maximum effect. These selections below aren't for the faint hearted however, we think they are bold and beautiful. It's all about what you style them with.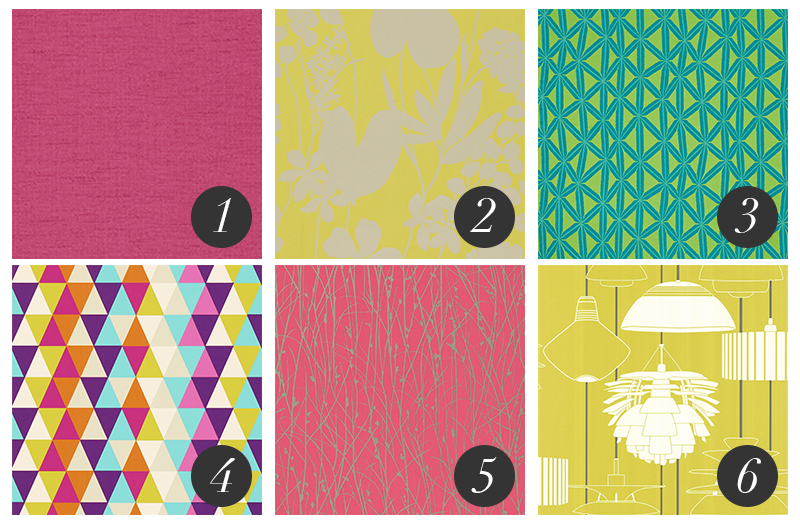 We believe these wallpapers are wonderful, bright and up to speed on the current trends when it comes to giving a house a good amount of colour. If you want to see what these wallpapers look like on a wall, click the links to each one and find out whether it would suit your chosen room.
1. Harlequin Raya Wallpaper
This wallpaper is a bright fuchsia pink that gives plenty of attitude. The texture of the wallpaper stops it from being too girly and makes it much more interesting to look at. We think this colour would work brilliantly well in a bedroom on a featured wall to brighten up a plain colour scheme. Team it with neon green or orange accessories and it'll look amazing.

2. Harlequin Nalia Wallpaper
We think this choice is the easiest to get away with in the home. The mix of yellow and cream is an unlikely pairing however, it tones down the vibrance of the neon yellow and makes it look much more sophisticated. We think this would work really well in a dining room where you eat every morning. The lovely colours will wake you up and put a spring in your step in the morning.
3. Harlequin Rumbia Wallpaper
This next wallpaper does have a tropical feel to it due to the turquoise and green used together. The pattern is playful and artsy, which is very modern twist that could work really well as a feature wall of a child's bedroom or even an office. The green makes it a wonderful choice for the summer and you could team it with a side table, displaying different tropical flowers, to keep with the theme.
4. Harlequin Kaleidoscope Wallpaper
With a lot of colour going on, we think this choice of wallpaper is absolutely perfect for a teenager's room because it doesn't limit you on what other colours you can mix it with. With a variety of colours including blue, pink, orange and more, you can opt to keep accessories neutral or you could completely go for a full on, colour crazed room.
It's entirely up to you and whatever you choose, this wallpaper will inject a lot of fun into a room.
5. Harlequin Grasses Wallpaper
This wallpaper's colour is a lovely coral colour, perfect for the summer time. With the pattern being stems and leaves, it goes towards the earthy yet edgy look. If you aren't afraid of a bright colour, this would work really well with white walls in a room that has a lot of light. 
6. Harlequin Illuminate Wallpaper
Last but not least is this lime green coloured wallpaper which is patterned with different types of illustrated lamps. Due to this pattern, it would be perfect in a office where you need your idea light bulb to go off. This bright colour could help with your motivation, instead of dull and dark colours at times where you need to get on with important tasks.
If you don't want to concentrate on a whole wall and would prefer to add accessories, here are some items we think would work really well in any home at any time of year.
You can even opt into adding only one of these accessories into your room and it will still leave a lasting impression. We do know that neon colours are make a huge statement in a room therefore it can still look amazingly bright, even if it is shown through smaller items. Have a look at the list below and see which one you like the best.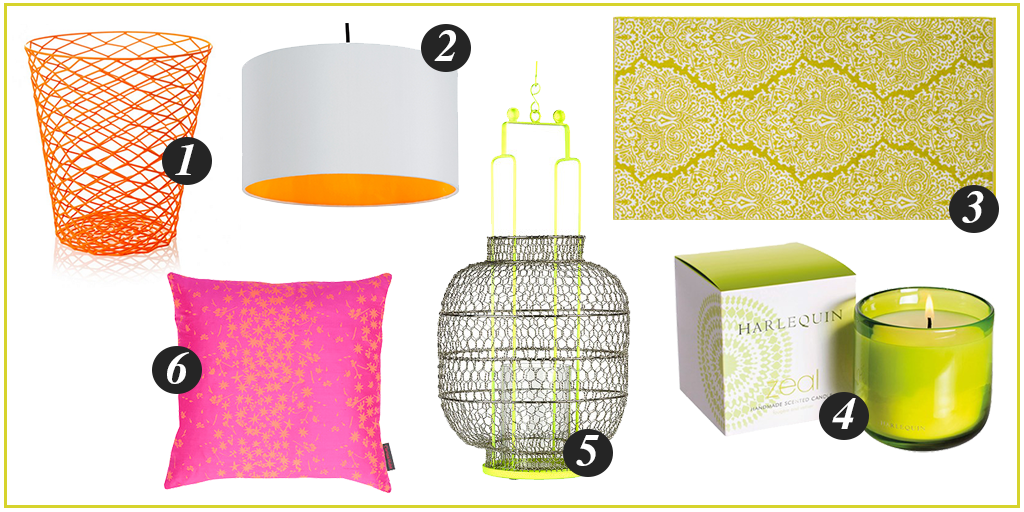 1. Neon Orange Wire Bin
A neon bin is a great way to give a nod to this trend without going too far. This is a perfect item for University student's room or an office, which will give the room a very subtle lift.
2. Neon Orange Light
We love this light! When it's dark in the winter and you feel too tired, you can put this light on and experience the vibrancy of the orange that'll wake you right back up again.

3. Harlequin Venezia Towel
Who doesn't love a soft towel after a long bath or shower? This colour is beautiful and the pattern makes it a complete must have for the summer, especially if you are planning on going away.
4. Harlequin Zeal Candle
If you want to sit back and relax, this candle's wonderful scent will do the trick whilst acting as a bright accessory.
5. Neon Yellow Lantern
This lantern is super trendy and would work really well in a dining room with industrial styled tables and chairs to give that edgy yet worn in, effortless look.
6. Neon Fluro Orange Cushion
We think if you really want to make a statement, pop a few pillows and cushions on your bed or sofa. This gorgeous florescent pink and orange one will grab the attention of whoever walks into the room.
Which one of these items would you buy for your home?
If you are thinking about revamping your home or a particular room in the house, have a look at our Interior Design services here and see how we can help you transform your home.