With bright colours and patterns, the tropical interior trend can see a little 80s, especially with the clashing of textiles and fabrics. Plastic neon cups and loud table linen is enough to grab your attention immediately.
Whatever you opinion is on this trend, it's undoubtedly fun, letting us feel beachy, even if the British weather isn't catching up. Who's to say we can't enjoy the tropical trend just because we're not in the right location?
You can dress up your home this summer by adding carefully picked furnishings and decorative accessories. This is a rather tricky trend to get right so have a read of our trend report and see how you could add a tropical twist to your home, whether it's simply with accessories or redecorating whole a room.
The next move is up to you. However, we suggest hosting a Hawaiian themed party to top it off. We doubt anyone would say no to an invite…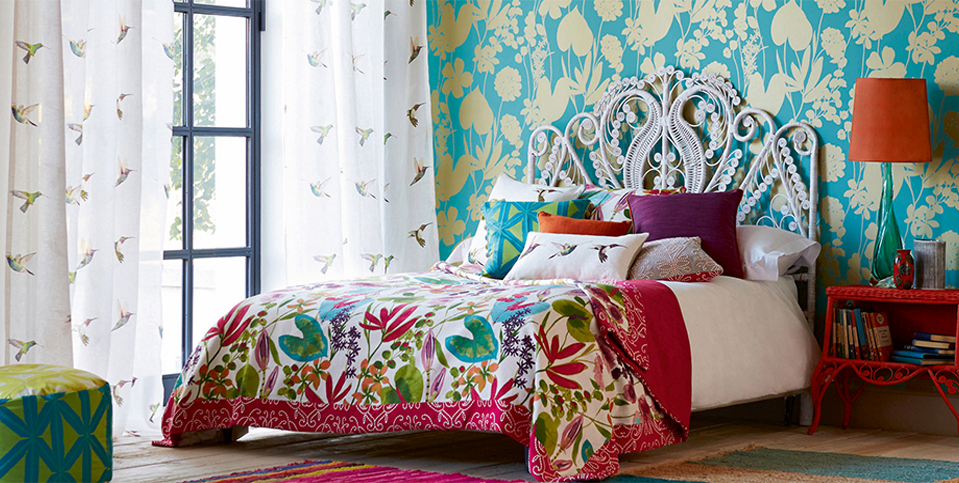 ---
 Main Furnishings
You might choose to go all out and design your entire room around this trend. This option isn't for the faint hearted. If you love bright colours and aren't afraid to have fun, this type of room will be right up your street.
The curtains are light and breezy with watercolour styled hummingbirds on them, which add a soft touch to the bedroom. Adding curtains that are too bright and heavy could make the room look at lot smaller from blocking natural lighting coming through.
We absolutely love the stylish green and turquoise wallpaper that adds instant character to the room. You could choose to clash your decor with this, or instead have it as a feature wall if you want to balance the trend with minimal furniture and fabrics to add that subtle edge.
However, with this room, it's full steam ahead with the different colours thrown into the mix to create a wonderful, expressive room that would be perfect for anyone that loves the Summer and likes to be reminded of it.
The piece that really tops this room off is the bed linen, which is packed full of the bright colours that represent the trend, such as the turquoise, orange, red and green, which don't usually go together, but in this trend, they clash wonderfully.
Not a big fan of decorating your entire room? You might prefer to have fun with the trend with decorative accessories instead…

---
Decorative Accessories
Just because you don't want to go for a large printed wall and curtains doesn't mean you can't have fun with this colourful trend.
Instead, you can choose to add accessories that represent the tropical theme in a playful way, without making it look like a fancy dress themed party 24/7. We've picked pieces that are stylish and chic that will work well in minimal themed homes.
1. Cut Out Gold Lantern

This cut out lantern is a beautiful accessory because of the pattern, making it look dainty and very experience. The brilliant thing about this is that you could pop a candle in there or use it to store any bits and bobs lying around your house. You could even put a clear vase inside and showcase your flowers this summer on your dining table.
This is another item that you can use for many different things around your house. You could put it on your desk for your pens and paperclips that tend to mess up your workspace. Or, you could even use it as a makeup brush storage to sit stylishly on a vanity table. With the leaf pattern, it subtly brings the trend to your room without being over the top.
With fragrances such as freshly cut grass, mimosa, amber and hints of citrus, we think this candle is absolutely perfect to put in your living room or on an outside table. The scent combinations will bring that tropical feeling to your surroundings. Who knew you could even get the trend right with something as simple as a candle?
You can't go all out with this trend without a tropical plant pattern. We think these pillows are wonderful because they showcase the main colours in the trend; blue and green. With different colours to choose from, you can find the perfect one for your room. These would also look lovely in an outdoor seating area, adding comfort to furniture that might not be too comfy.
One of the reasons why we love this trend is because it isn't too serious and you can be as fun as you want with it. Whether that's watermelon wall decor or anything else for that matter, it's entirely up to you with how far you go. We absolutely love this bird candlestick because it stands out and will most likely make people laugh when they see it. Team it with a few colour glasses and you have the perfect dining table setting.
Whether you think about tropical countries or themes, most people think of the weather and fresh fruit. The pineapple has become an icon in its own right when representing all things tropical, whether that's a cocktail, pizza or anything else. That's why this glass jar is the absolute perfect choice for this trend because it's fun yet has that touch of glamour with it's gold colour. You could store your cocktail umbrellas in here or keep it as a secret stash for your snacks!
We love this patterned fabric from the Rubia section, available in three different colours. We love this one because of the bright turquoise and green with two of the main colours for this trend. You could cover a cushion with this material or even cut out a rectangle and put it in a frame as wall decor. There are many different things you can do with this fabric and have fun is only one of them!
We're here to help you with any questions if you fancy updating your living space for the summer. Visit us here for more information on how we can help!