Now that it's leading up to the summer, many people could be looking for their dream holidays to take in the upcoming months. A lot of us may want to just get away from our everyday lives, explore a sunny location and enjoy the weather that comes with this time of year. Even thinking about a lovely beach can be enough to make people daydream about the days of building sand castles and having a swim in the sea.
There is a way you can take the beach to your home without the messy sand everywhere! With colours such as turquoises, greens and blues, you can get the feeling of the summer in your home and it can make a room much more inviting. Mixing this with themed decorative accessories can seriously boost the way a room looks, tying a trend together in a creative yet chic way. If you aren't massively keen on only going on the sea-themed colours, you can still add more colours whilst sticking to the trend with coral, shell and fish patterns being included in the overall look.
Here, we are going to show you show some brilliant examples of you can get this brilliant trend for your home.
You can include the "Under The Sea" theme in your home without completely changing the colour of your walls or furniture. Instead, you could add this beautiful coral reef inspired fabric from Sanderson's Voyage of Discovery range, which features different coloured colour and cute little fish.
This fabric is available to make into cushions, curtains or even pieces to put in a picture frame as an accessory. Not everything under the sea is blue and in fact, the ocean is extremely colour, full of different creatures and plants that we don't see on land.
We think this pattern celebrates the sea yet in a way that isn't too overwhelming. Teaming this pattern with white or cream colours in your home will give it the edge it needs for the summer. Then after it cools down a little for the winter, you can easily swap the fabric for something a little more autumn themed or festive.
If you do want to step it up a notch, you could always opt to team the fabric with this wonderful coral themed wallpaper to give the room a little more jazz. This is also a part of Sanderson's Voyage of Discovery range, making it a perfect pattern for a bright feature wall in your home.
A wallpaper like this with pink, green and yellow would work really well in a bedroom too without being too feminine you could could put it in a home office to help you with your productivity due to the bright colours.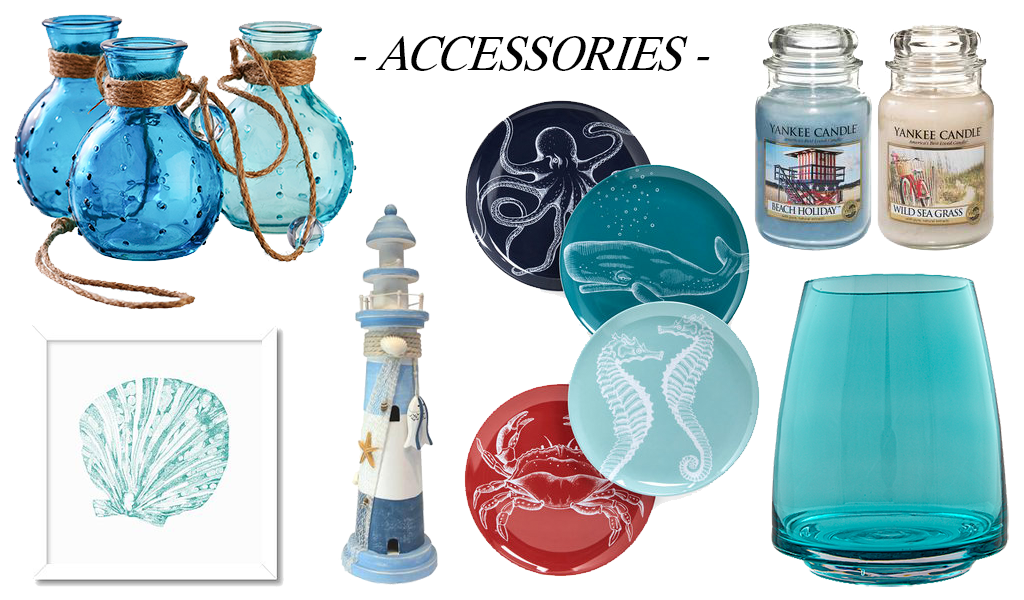 You can always have fun with this "Under The Sea" trend by adding colourful decorative accessories into your home. This can be an excuse to add as many blue themed items as you want because it's the summer time and you can get away with it.
Adding any decor that has rope will give a nod to the nautical/sailor theme as well, keeping it in trend with other pieces. You don't always have to be blatant however, we think these plates with the sea creatures is a great way to be fun and chic at the same time, plus the colours work really well together.
If you want the feel but don't want to add any pieces, you can always opt for a lovely candle, like these two from Yankee which will give you that beachy scent that reminds us all of a great holiday.
We think this theme is very light hearted and will make your home very bright and colourful, even if you only choose to add a few accessories.
Blue bottles with rope- £3.99
Blue shell art with picture frame- £25
Lighthouse accessory- £6.99
Sea creature plates- $27.99/£18.28
Yankee Candle beach themed candles- £40
Blue vase- £4
What do you think of this trend? Let us know!